Be the Sharing Type
---
---
Ultra HD video you can take anywhere.
---
---
Olympus has a longstanding tradition for producing equipment that can survive the elements while taking some of the best photos and video footage on the market. The TG-Tracker continues the proud tradition of balancing high-quality video and a body that you can take just about anywhere. Not only is the camera waterproof up do 30 metres, the TG-Tracker is shockproof up to 21 metres, crushproof to 100 kgf and freezeproof up to -10°C.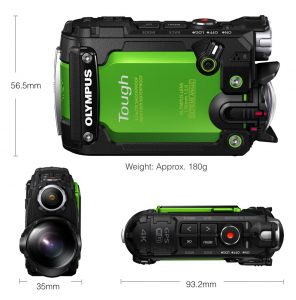 Inside, the TG-Tracker features a 1/2.3″ BSI CMOS sensor paired with an f2.0 fixed focus lens with a 1.58mm focal length, perfect for capturing 4K images on the go. The lens is also adjusted to show wide angles up to 204°, allowing the user to capture everything in sight. Video wise, the TG-Tracker allows for impressive 4K video at 30 fps and 1080p recording at 60 fps. The videos are supported with built-in 5-axis image stabilization, allowing any type of action to be captured smoothly and seamlessly.
The TG-Tracker is built with a series of internal sensors, including a GPS and a compass sensor that allow for device tracking and measurement. The sensor's data can be viewed through either the camera's LCD screen or on a smart device after pairing the two through the Olympus Companion app. For anyone considering making the switch over to the TG-Tracker, the camera comes equipped with a three-loop accessory mount, allowing users to use any accessories they might have picked up for other action cameras.
The Olympus TG-Tracker is now available for $400 through Amazon.
---